So, we've been suffering from Olympic fever here. We all watched the opening ceremonies (until sleep took over), and we celebrated with the rest of Canada when Alex Bilodeaux won the first gold medal for Canada -on Canadian soil. Our oldest two took interest in the story the media presented, highlighting the relationship Alex has with his oldest brother Frederic who has CP. Personally, I found the images of Frederic Bilodeaux powerful, invoking much emotion.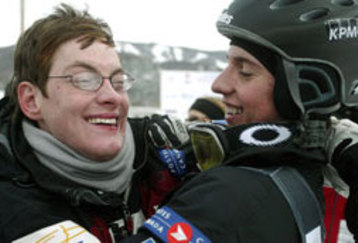 Emily and Sophia are now trying to figure out what our family can do as a sport since Alex chose to ski because that was something he could do with his brother. Right now, the girls think we can do gymnastics together since Rachel has mastered the splits with her legs. I don't want to break their hearts by telling them I have a horrible cartwheel.
It was encouraging to see all the positive press on this family. It reminded both Ralph and I that determination is a huge factor in getting our family out together to do things. We mustn't let the medical issues prevent us from having fun with all six of us.
Janneke succeeded in her first rollover last week. She did it with our OT (occupational therapist), but I have yet to see her roll with me during our daily stretch sessions. Rachel was the same way - rolling once or twice with the OT or her big sister but never with Mom!
Rachel had another visit to McMaster Hospital today. Apparently there was an oversight with her portacath insertion, and we had to sort through phonecalls and paperwork to determine who was actually responsible for the care of the portacath. We were blessed with another great RN who took our case over after several phonecalls and a big headache. Rachel should have stayed in the hospital after her surgery, and she should have received care for her port before we took her home. Today, we received the necessary instructions and orders for supplies, and she had her first access of the port. (This means the staff checked her portacath and flushed it to determine it was in good shape-that nothing was blocking the line.)
We are still on call for Rachel's MRI, and she will have growth/development testing at Mac mid-March (using the portacath). It will be during the week-long break from school, so both Ralph and I can be there. At that point, the whole family will donate some DNA and send it to Montreal via Sick Kids genetics for further investigation of our family's genetic makeup.
In the meantime, Ralph and I have a test ahead - of our patience and possibly our relationship. A wonderful family donated a Pedicraft bed (hospital-style with hyrdraulics), and we get to put it together. The good news is, I found the instructions. The bad news is, well, see the photo - lots of pieces. We'll post something next year when we finally get it together. : )
the test...
The girls were having fun with iPhoto again...